It is the text from here.
100 Landscapes of Nanao's Satoyama and Satoumi
Satoyama and Satoumi in Nanao
There are many low mountain and hill countries in Noto Peninsula, and there is little level ground. In addition, shoreline of Mikata has form that is different from the reef shore called "gaiura", Rias coast called "cove", shallow for a good distance from the shore sandy beach Coast each. Nanao is area facing "the cove" in that in Noto Peninsula and castle is put in the past by relatively calm climate and is city that governed Noto area. It prospered as Ryoshimachi and, on the other hand, we brought up inherent agriculture culture like Noto and have been protected from resources of the abundant sea around Gulf of Nanao.
In "100 Landscapes of Nanao's Satoyama and Satoumi," we introduce 100 scenery of Satoyama and Satoumi in Nanao each place.
100 Landscapes of Nanao's Satoyama and Satoumi - electronic book
We can read "electronic book" for sense similar to real book with PC and tablet, smartphone.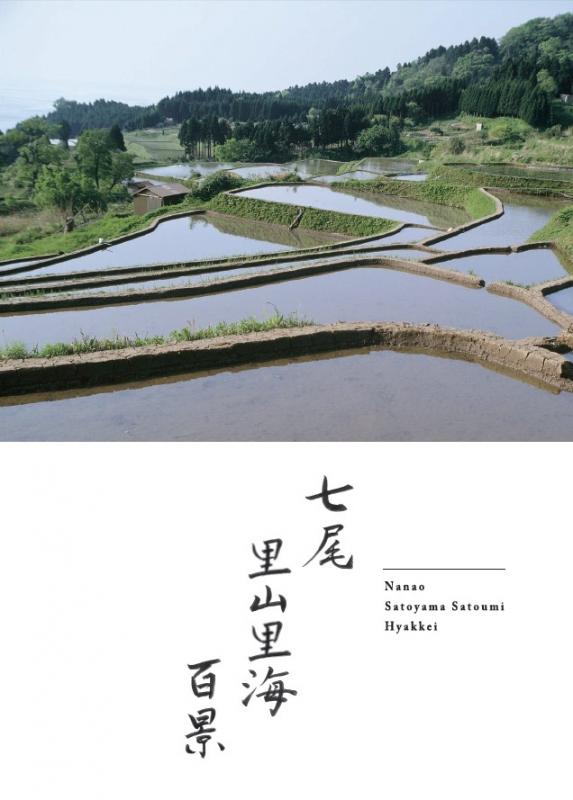 (electronic book is opened when we click image)
List of 100 Landscapes of Nanao's Satoyama and Satoumi - videos
With Satoyama and Satoumi of world agriculture inheritance, Noto
World agriculture inheritance
World agriculture inheritance (Globally Important Agricultural Heritage System (GIAHS): Dias) was founded by international organization "United Nations Food and Agriculture Organization" aiming at stable securing of food (FAO, the headquarters: Italy Rome) in 2002 (Heisei 14). Overemphasis to excessive productivity of modern agriculture causes environmental problems such as deforestation or water pollution in all parts of the world, and backgrounds include that, besides, they invited disappearance such as area culture and scenery, biological diversity peculiar to. Purpose of world agriculture inheritance is thing and the succession to those next generation that traditional agriculture, agricultural methods, biological diversity which kept environment of the land lost in the modernization alive maintain protected use of land, farm village culture, farm village scenery as "area system" integrally and keep in good condition. World agriculture inheritance authorizes local system mainly on agriculture and forestry fishery whereas world heritage which United Nations Educational, Scientific and Cultural Organization (UNESCO (UNESCO)) promotes is intended to register, and to protect remains and landmark architecture, "real estate" including nature and aims at maintenance, maintenance,, besides, connecting with the succession.
"Noto's Satoyama and Satoumi"
2011 (2011) June, "Noto's Satoyama and Satoumi" "was recognized as Toki to world agriculture inheritance for the first time in Japan with village forest (Sado-shi, Niigata) of Sado who lived together. Noto was area where Satoyama and Satoumi which took root in area was gathered, and, as for the authorization of "Noto's Satoyama and Satoumi", the collective strength was appreciated. All of agriculture and forestry fishery and working of people in conjunction with it, living itself brought up in Satoyama and Satoumi of Noto was, so to speak, recognized as "world agriculture inheritance".