It is the text from here.
-7 "civic wish" citizens' charter -
September 21, 2006 (Heisei 18) establishment
Citizen's wish -7 citizens' charter -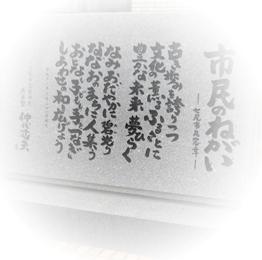 While being proud of old step
In hometown full of culture
We open rich future dream
namiodayakani inexperienced (meet) light
People from nanaonomachini gather
Both adult and child tie hand
Let's widen friendship of happiness
Citizens' Charter (English version) (PDF: 56KB)
It is symbol of heart of all the citizens who "citizen's wish -7 citizens' charter -" values rich nature and culture, and pray for happiness of all, and aim at Nanao flapping in the future full of dreams wrapped in relief and gentleness.
Each citizen was independent and thought about town development and we collected group draft every six generations that many citizens participated in and made all together by power citizen's as thing which citizen could sympathize with by mutual respect and understanding more than area and difference of recognition between generations and established.